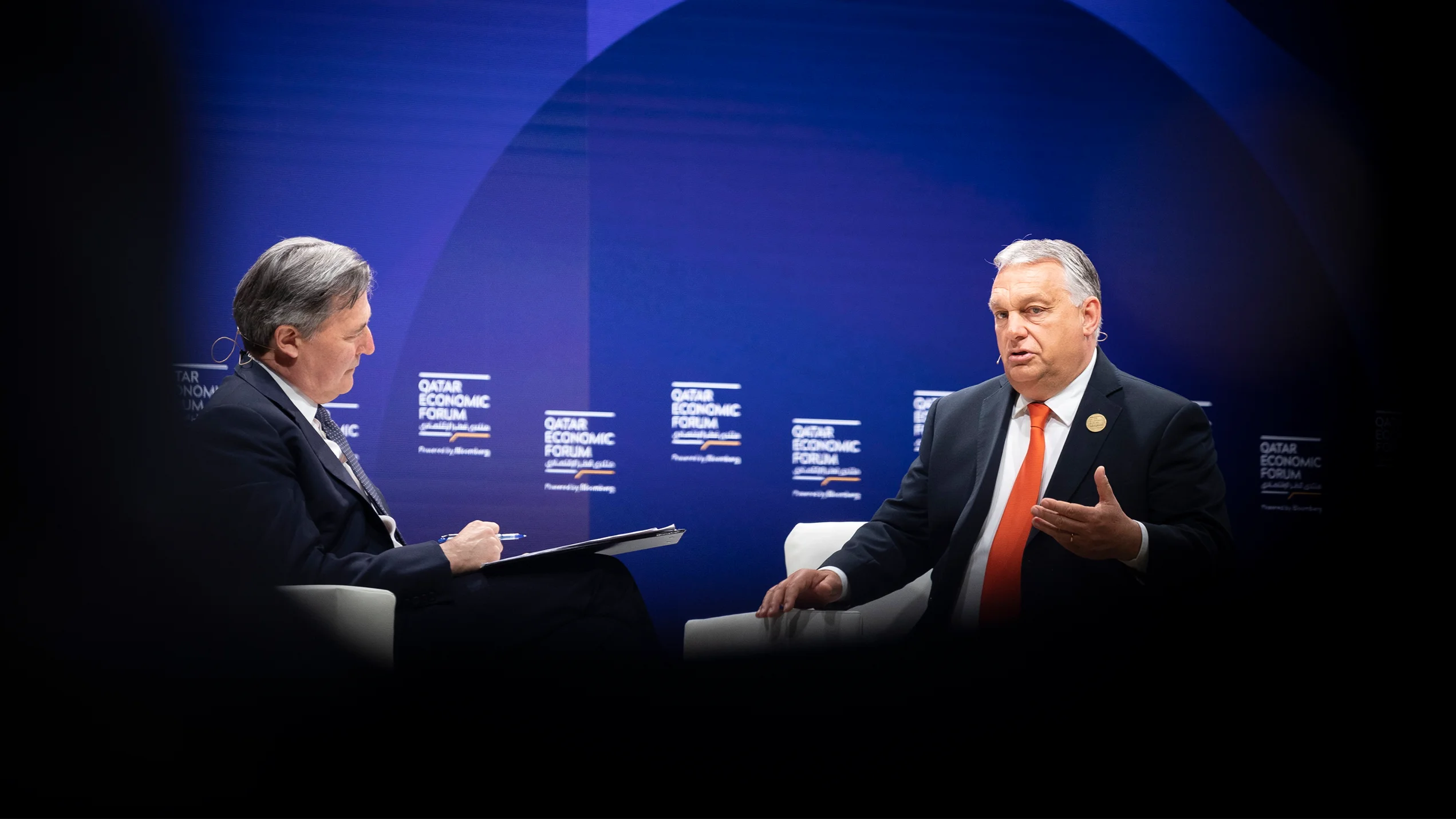 A ceasefire is needed because more people die in the war in Ukraine every day
Instead of escalation, a ceasefire and peace talks are needed because many people die in the war in Ukraine every day, Prime Minister Viktor Orbán said at the Economic Forum of Qatar on Tuesday.
Hungary's perspective of the conflict in Ukraine differs from that of mainstream Europe because the country at war is our neighbour with a significant ethnic Hungarian minority, Hungary's Prime Minister pointed out in an interview with Bloomberg Chief Editor John Micklethwait. Several members of that Hungarian minority have lost their lives in the battles, Mr Orbán added.
The premier called the war a failure of diplomacy, an event that should never have occurred. According to Mr Orbán, the main issue in the conflict is not who attacked whom, but that more people will die on the next day.
For that reason, a ceasefire is needed first of all, to be followed by negotiations about a new security system in Europe. According to the Prime Minister, peace is only conceivable via an agreement between the United States and Russia.
As to the blacklisting of OTP Bank by Ukraine and Hungary's resulting decision to block European Peace Facility payments, Mr Orbán said that it is a matter of principle that a country like Ukraine, which expects support from us, should show respect instead of blacklisting our companies.
"If you need our money, show respect and do not sanction our companies", the Prime Minister emphasised.
Answering Mr Micklethwait's question about approving Sweden's NATO membership, Mr. Orbán called the political relations between Sweden and Hungary "awfully bad". That is the first factor to be improved because we do not want to import conflicts to NATO.
According to the premier, Hungary disagrees with the European Union in two strategic issues. One is the so-called risk mitigation policy in the relationship between Brussels and Beijing; and the other is the resolution of the war in Ukraine. In Mr Orbán's opinion, the withdrawal of EU funds from Hungary is attributable to these matters.
Hungary, unlike the European Union, calls for connections as well as closer commercial and political ties, the prime minister said, noting that Hungary is a very open economy, with high exports. China offers immense opportunities that should not be missed. "It is up to our attitude whether China becomes a partner or opponent of the West", he added.
Mr Orbán called Qatar a potential partner with whom Hungary strives to forge closer ties in the areas of energy, agriculture, information technology, and security.
According to the Prime Minister, the main issues of the future will be a choice between normality and abnormality, as well as the ability of Christians and Muslims to cooperate for the protection and conservation of traditional values, namely God, nation, and family.
"Nowadays, if you act according to your national interest in Europe, you could easily be accused of standing on Russia's side", Mr Orbán said in response to questions about the extension of the Paks nuclear power plant.
"My compass always points towards Hungary's national interest", he added.
American diplomats may intervene in people's lives, but "we don't like that", Viktor Orbán claimed.
Answering a question, he stated that U.S. Democrats are much more ideologically governed than the Republican Party. The Democrats regularly try to convince people of their own principles, and in fact they sometimes force their will upon others. "I don't like that. We have our own culture and life, please don't intervene", he said. "Don't educate us, and don't tell us what is right or wrong." Neither Americans nor other nations should tell Hungarians how to live. Former Republican President Donald Trump understands this, Mr Orbán concluded.
Prime Minister Viktor Orbán had travelled to Doha on Sunday morning for an official visit initiated by his Qatari peer. Upon an invitation by the Emir of Qatar, Mr. Orbán delivered a speech at the host country's Economic Forum. He was accompanied by Finance Minister Mihály Varga and Economic Development Minister Márton Nagy.