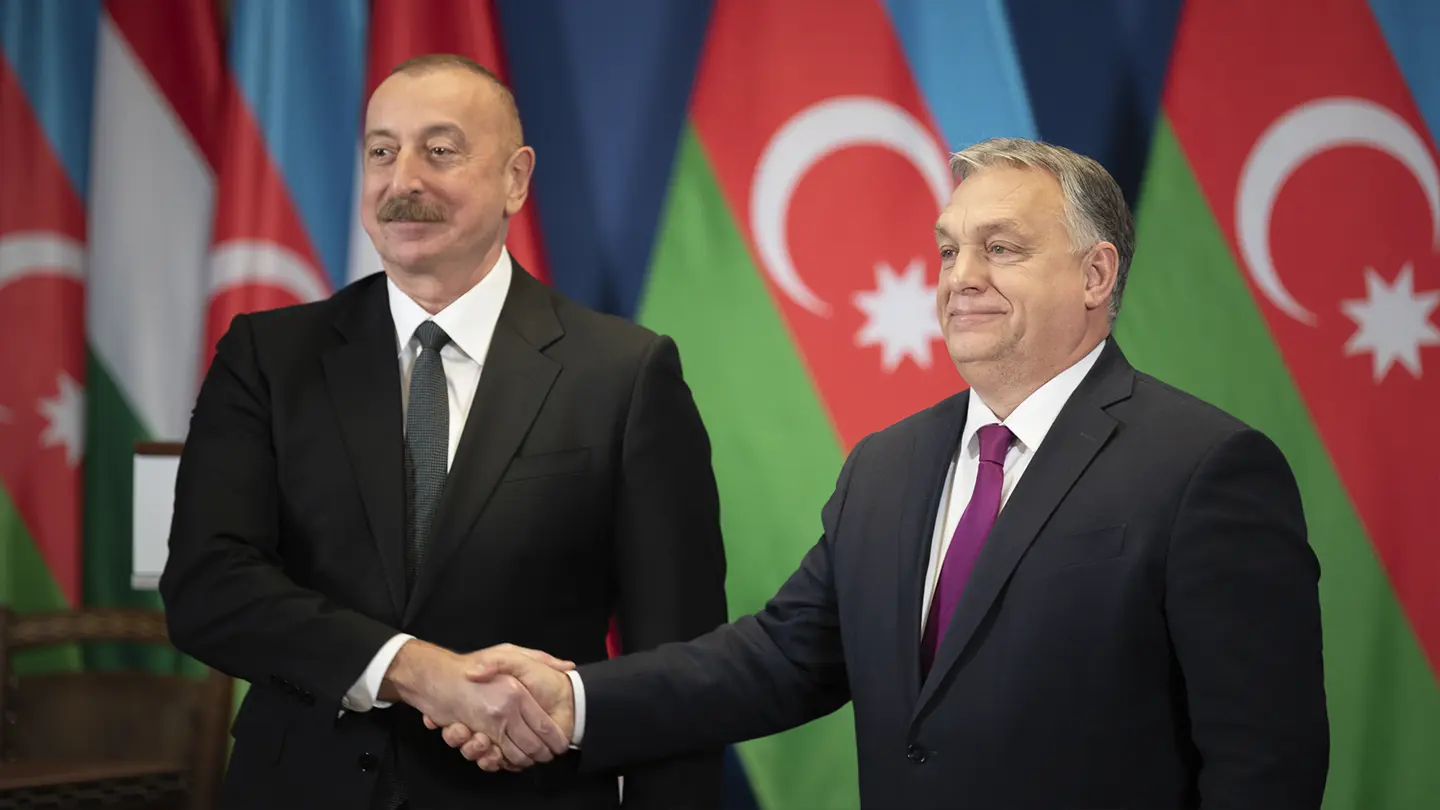 We have raised level of cooperation with Azerbaijan one degree higher
Hungary has raised the level of cooperation with Azerbaijan one degree higher, to the level of strategic partnership, Prime Minister Viktor Orbán stated on Monday in Budapest.
In the Carmelite Monastery, the Prime Minister met with Azeri President Ilham Aliyev.
In a joint press statement, Mr Orbán highlighted: they have increased the level of cooperation because both countries clearly understand that "not only Europe, but the regions in contact with Europe have also entered the era of threats". This meeting is different from meetings held earlier in that "the international environment that surrounds us" is much more dangerous than at any time before, he said.
The Prime Minister observed that together with President Ilham Aliyev, they had been working for more than a decade to increase the depth and width of relations between the two countries to a level "worthy of the two countries".
He said the war being waged next door to Hungary and the Brussels sanctions adopted in response thereto have created a specific state of emergency for Hungary which is embodied in the vulnerability of Europe's energy supply. This has further increased the importance of Azerbaijan, and while "Azerbaijan had been a friend of Hungary's also before," it has now become a strategically important country for the whole of Europe, he added.
He stressed that everyone in Europe knew that diversification was the only promising answer to the present situation: energy must be transported to Europe from as many sources and via as many routes as possible.
He recalled that earlier the Nabucco plan, the idea of a corridor transporting energy to Europe from a southerly direction had already failed. In the present situation, it is evident, however, that the most realistic scenario for diversification is to transport energy generated in Azerbaijan to Europe, he stated.
He stressed that Hungary therefore welcomed Azerbaijan's commitment to improving Europe's energy security.
Mr Orbán said according to an agreement, by 2027 the quantity of natural gas coming to Europe from Azerbaijan would be doubled, while the parties had also signed another agreement for the transportation to Europe of electricity from Azerbaijan.
He said both natural gas and electricity would come to Europe from Azerbaijan via Hungary, and so Hungary would become a winner of this new situation as well. "We are happy that Hungary will become a part of the solution – rather than the problem – from the viewpoint of Europe's energy supply," he said.
He pointed out that from now on the cooperation of Bulgaria, Romania, Hungary or Slovakia in the field of energy would become a pan-European – rather than a mere regional – issue as the whole of Europe could be supplied with energy through these countries, and so they expected the European Commission to support the necessary projects accordingly.
Ilham Aliyev said at present energy security was the most important priority everywhere. His country has plenty of energy to supply Europe's needs as a reliable supplier in the coming one hundred years, he stated.
He said the old, amicable cooperation between Hungary and Azerbaijan conveyed mutual advantages equally for the two countries concerned and for Europe, and this was another reason why it was now important to reinforce their partnership.
He recalled that the parties had for some time been working together on a variety of policy issues as well as on creating firm foundations for energy cooperation. Additionally, relations in other areas, including education and transport, are also excellent.
Finally, Mr Aliyev invited Mr Orbán for an official visit to his country.
Before the press statement, the parties signed seven Hungarian-Azeri agreements, including on cooperation in connection with natural gas, in transport, space research and migration as well as a declaration on enhanced strategic partnership.