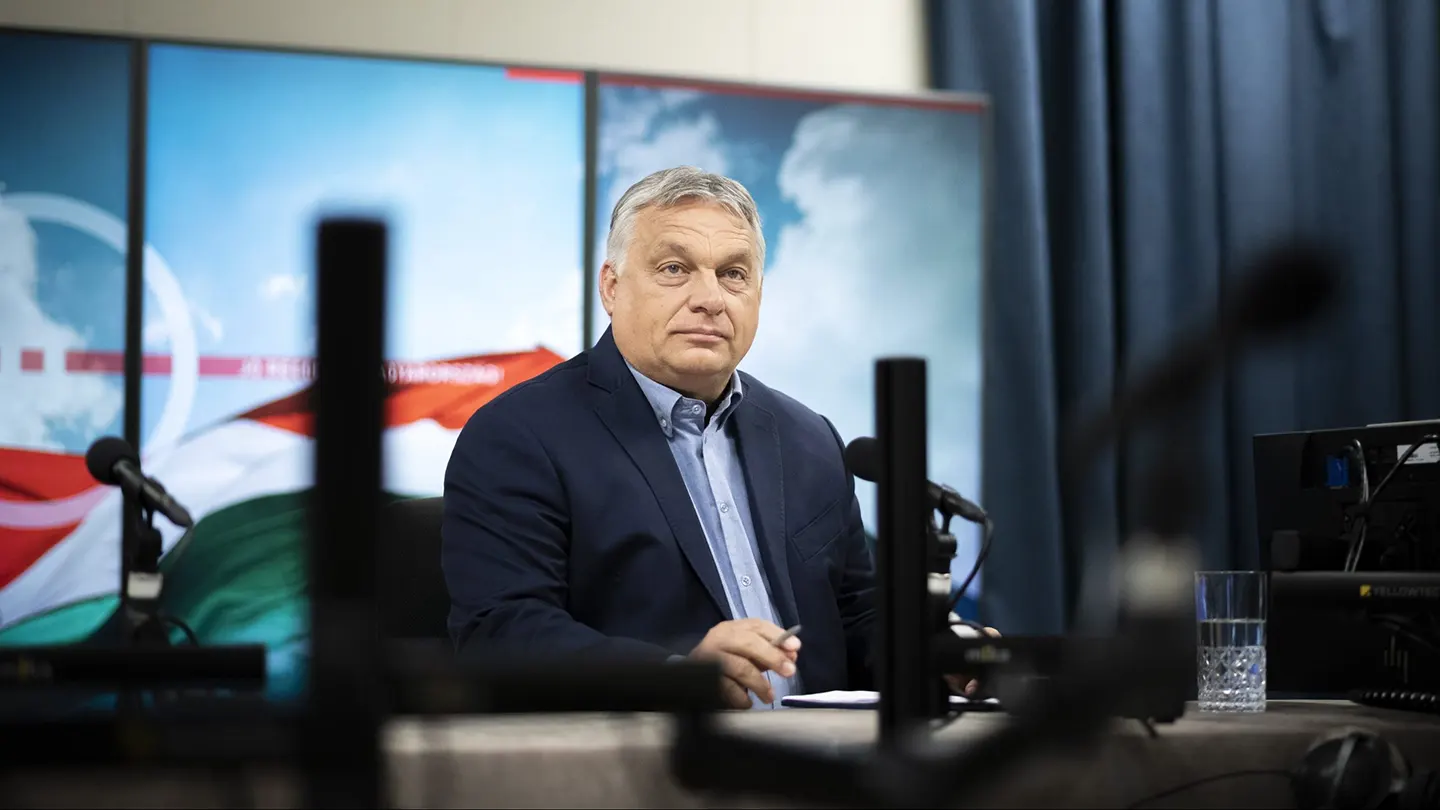 Prime Minister Viktor Orbán on the Kossuth Radio programme "Good Morning Hungary"
Zsolt Törőcsik: Brussels is working flat out on the ninth EU sanctions package. President of the European Commission Ursula von der Leyen spoke about this during her visit to Finland. Meanwhile more and more European countries are reporting an economic slowdown, based on third-quarter GDP data. Experts say that the situation could be further complicated by the EU oil embargo, which comes into force on 5 December. This means that crude oil supplies from Russia will be banned from Monday. Our guest in the studio is Prime Minister Viktor Orbán. Good morning.
Good morning.
So 5 December is an important deadline for the entry into force of the oil sanctions. But how will this affect Hungary?
The war has been in progress for nine months. The idea was that the introduction of sanctions would bring the war to an end – or at least bring us closer to the end of the war. The nine months that have passed since then show that this expectation has not been fulfilled: the sanctions haven't brought us one millimetre closer to the end of the war; but they have caused disorder – indeed deep distress – for those who imposed them, namely the countries of the European Union. We're facing a difficult winter, and Ukraine is in an increasingly difficult situation. The Russians are obviously suffering economic difficulties, but their revenues are still extremely high because of high energy prices, and they can continue the war. Looking at all this we can conclude that the sanctions policy has failed in its goal, and has been misguided. Up until now, however, we have only really talked about sanctions, or there have been vague threats of the introduction of sanctions. Of course there are some that have already come into effect; but, as you've said, the most serious part of the sanctions will now come into force on 5 December. I could say that we'll just have to see which way the wind blows. This will make it more difficult for the European economy to function. Since we're not covered by the sanctions ban, Hungary has succeeded in ensuring that it can import oil from Russia. So we don't need to fear that there will be a shortage of supply: we have the right to get the oil that we need to run our country. The problem will be the price, because Hungary cannot exempt itself from the inflationary effect of the sanctions. And so we're waiting to see what effect the introduction of the sanctions will have on prices on 5 December.
The price cap is on the agenda, although it hasn't come into force yet, and no decision has been taken – not only on oil but also on gas. And, as I mentioned in the introduction, von der Leyen has indicated that they're working flat out on the ninth package – despite the effects that have been mentioned. Does the Hungarian government have any information on what this package might contain? Because press reports are saying that there might indeed be some developments on the price cap and possibly on gas distribution, and that nuclear energy might be included in this.
We know what they want, what the Brussels bureaucrats want: they want us to extend the sanctions from oil to nuclear energy and gas. This would have tragic consequences for Hungary, so we must protect ourselves against this and obtain an exemption. So far we've managed to do this, and it isn't the first time that this has been on the agenda. It's now being called the ninth package of sanctions, but in fact gas and nuclear energy were already proposed for inclusion in the fourth or fifth package. Hungary has always achieved its own national objectives – in other words, we've exempted ourselves from the embargo. So we can import from Russia the materials – raw materials and energy – that the Hungarian economy needs. Therefore we're taking part in this debate on the ninth package with high hopes, because if we've been able to hold out so far, we'll obviously be able to do so again now, and we'll be able to ensure that our interests are met. At the same time, the pressure is constant; so after the ninth sanctions package there will be a tenth and an eleventh. Therefore we must keep fighting to protect our fundamental interests. This is why we've asked people to support the Hungarian government and the Hungarian government's position through the national consultation.
Speaking of the national consultation, the news from yesterday is that the number of responses has passed the one-million mark. This also shows that what's happening in Europe has an impact on society. How do you assess this figure?
We're talking about a crucial question, and in terms of immediate everyday life today there's hardly a more important issue than how much households and businesses employing people need to pay for energy. So I'm not surprised that in a national consultation like this more than a million people have already taken part; and it's usually more than one million, because one million questionnaires have been returned, but fortunately people aren't only filling them in, but talking about them – obviously several people within each household. So I feel that the country has understood that in the next economic year – in 2023 – economic success and the extent of economic difficulties will depend on energy prices and sanctions.
We'll be talking more about this, but it's interesting that on 2 December we're still talking about expanding the sanctions. Because in our interview at the end of October you said that there would be growing pro-peace sentiment in Europe, and that there would be a confrontation in November or December, when we'd also need to talk about maintaining the existing sanctions – because they've been in place for about six months now. Nevertheless, will expansion of them be on the agenda?
Of course both issues are on the agenda. One camp – and this seems to be the majority camp at the moment, let's call it the pro-war camp – wants to see sanctions extended, because they want to continue the war and they think that peace can be achieved by continuing the war. There's another school of thought – and we belong to this school – which is calling for an immediate ceasefire and the start of peace negotiations. So we believe that the way to peace is through a ceasefire and peace negotiations. Those who are pro-war are always calling for more and more sanctions. This is where the circumstance that you've just mentioned comes in: every six months there must be another decision on the fate of the sanctions that have already been imposed. Up until now this has mostly been done automatically. But now we'll see – or are already seeing – a situation in the economies of most European countries which will compel us to stop and take stock of the consequences of the sanctions that have already been imposed. And so we'll need to have a thorough and in-depth debate before deciding on whether to renew them. This will differ from previous practice, whereby this all happened automatically.
When talking about the impact on the economy, what the Croatian president was talking about the other day is interesting: Europe is buying gas from America at three times the previous price. And then this question arises: in this situation, who – even among its own allies – can Europe rely on?
The Croatian president isn't wrong, but he isn't the one who first spoke out on this. That was perhaps the French president, who said that when the Americans provide us with gas at four times the price they pay for it at home, that isn't a sign of friendship. This now highlights the fact that at present the Europeans have lost their way: we're still wandering in the darkness of the forest. Without going into a lengthy explanation, put simply the European economic strategy so far has been to try to import raw materials and energy from Russia – bring into Europe raw materials and energy at prices lower than in the rest of the world – and in return take advanced European technology to Russia in the form of investment. For several decades now this has been the axis of the European economy. It's been described by EU leaders as the free market from Lisbon to Vladivostok. Now we've decided to do away with it. Hungary didn't support this, we didn't see it as a good idea, but the majority, or overwhelming majority, of the European Union – especially the big boys, Germany and France, who were most affected – pushed through the idea of putting an end to this economic model. So recently Europe has cut itself off – or is cutting itself off – from economic cooperation with Russia. So far this hasn't been an intellectually challenging task. The question is this: if we don't have that, what will we have instead of it? What will be the new European economic strategy? There's no answer to this question; because if the answer to it is that we'll replace the missing resources that used to come from Russia with American energy sources, then we'll need to reckon with the fact that this will be more expensive than the energy from Russia that's been coming in up until now. If energy is more expensive, the price of everything goes up. This is why in Europe today we have sanctions-induced inflation. We're paying surcharges created by sanctions. If we can't get cheap imports from Russia we'll have to get them from elsewhere, and they'll be more expensive. This also pushes up prices, because the price of energy – the high price of energy – is passed on and is reflected in everything, because things have to be transported, and things have to be produced. Energy is needed to produce any product, and all this pushes up prices – even food prices, primarily through the price of fertiliser. So we already know what the economic model of Europe used to be. We also know that we're putting an end to it right now. But no one's ever answered the question of what will replace it. My dear friends who are in favour of sanctions, we've always urged you – and I've personally urged you – to tell us what will make the European economy competitive in the coming decades, if we only use expensive energy. But there's no answer to that, and it's a very serious challenge for everyone. We need to adapt to a new situation without a common European economic strategy. This is why Hungary cannot wait for someone to come up with the answer to the question of what the future European economy will look like, and all we can and must do is to devise and create the future Hungarian economy from our own resources, from our own ideas, from our own wellspring. This is what the Government is working on. This isn't an easy task, because we're not dealing with a temporary crisis lasting one or two years: we'll need to build a completely new economic model.
So there's no answer from Brussels yet, but what we do have is the Hungarian recovery plan, which was approved by the European Commission on Wednesday after a year and a half, and which was rated as one of the best of the 27 such documents. If this is indeed the case, why did we have to wait a year and a half for this?
It's true that we've taken a step forward – if not a giant step, then a significant step forward. Because the European Commission – after a year and a half of hesitation, as you say – has proposed that the Hungarian recovery plan be adopted. Here we're talking about the plan that's needed to determine the spending of the money we've generated through joint borrowing in response to the COVID crisis. This is to enable the European countries that are in difficulty because of COVID to have additional funds to help their economies to recover. This is why it's called a recovery fund. In this, speed would have been of the essence. By comparison with this, they could have given us these resources as early as the summer of 2021. Why didn't they? Why were they unfair to us? Why did they drag their feet? There are obvious political reasons for this. There's a difference of opinion between the European Union and Hungary on a number of important issues – let's say fundamental issues. This is why they don't like the Hungarian government, and why they wanted to see a left-wing government voted in at the last election. This is why they didn't give the money to the country, but rolled dollars to the Left in order for them to win the election. This is how the "rolling dollars" affair came about. That was the plan. But the Hungarian election was won by the Right, there was nothing the Commission could do, and it had to negotiate on the merits of the case. All sorts of conditions were dragged out, some of which we saw as sensible, some of which we saw as unnecessary. But since we wanted to achieve a result, we were even able to agree on issues or institutions that we saw as unnecessary. We had seventeen requests from the European Commission, we met those seventeen requests; and in the end we arrived at a situation in which the Commission not only said that this was fine, but that the Hungarian plan was one of the outstanding ones in Europe. I need to say that a great many people worked on this, and I'd like to thank them. You can't see it from the outside, but in the negotiations there's a brigade of people working to ensure that Hungary achieves a good position. And the return of Tibor Navracsics to the Government has proved to be a good decision: he's led these negotiations and – as the result shows – he's led them well.
When you talked about the conditions, you mentioned seventeen, but since then there's been an eighteenth. What guarantee is there that there won't be a nineteenth, a twentieth, and who knows how many?
There's already a nineteenth and a twentieth, but anyone who knows the European Union and the European institutions is fully aware that they're like that. So they'll always come up with a new idea. There's a historical tendency for the bureaucrats in Brussels to seek to increasingly extend their influence over the Member States, and they'll try to do so whenever they see the opportunity. Here patience is needed; because despite the fact that they're unfair to Hungary, despite the fact that they're always imposing new conditions, ultimately we must seek an agreement. There are, of course, some fundamental issues on which we cannot change our position, on which we don't want to change our position, and these are really the big issues at the heart of the debate. They want us to let in migrants, but we won't do that. They want us to let sexual propagandists into schools, but we won't do that. And they want us to accept sanctions without any further reservations and support the war, but we won't do that either. But everything that lies outside that can be negotiated. This is what we're living through now.
There are two other things on which there's a difference of opinion between Brussels and Budapest. One is the issue of financing Ukraine. And in one of our previous conversations you said that there will be serious debates on that. At what stage is this debate now?
Now it's getting serious, because it's emerged that the cost of the war isn't only the West financing the Ukrainian army through weapons, money and equipment, and it isn't only the cost of what's being destroyed now needing to be rebuilt – and Ukraine can hardly count on anyone other than the West to fund its reconstruction. But it's emerged that there's a third item: the question of running the Ukrainian state. So Ukraine is in a situation in which, because of the war, it cannot run itself. I'm not talking about the army: it cannot pay pensions, it cannot pay the salaries of state employees, and it cannot maintain its transport and infrastructure. Quite simply, without external resources, the Ukrainian state won't be able to function. This is why Ukraine has turned to the West – including the European Union – for money. It's as simple and primitive a matter as us giving them money. This means that, according to the EU, we, the European Union, should give Ukraine 18 billion euros a year – just so that the Ukrainian state can operate and give the Ukrainian people the money they need to live. We accept this. We're not happy about it; if there were no war, but peace, this expense wouldn't exist either. So if the EU had pursued the route that Hungary proposed – to push for and promote peace rather than war – this amount would either not be needed at all, or would be considerably less. But, given where we are, Hungary is forced to recognise that – despite our own economic difficulties – Ukraine must be helped. And the question is how to help Ukraine. There are two proposals on the table. One proposal says that we should use the budgets of the EU Member States to take out new joint loans and give money to Ukraine from the loans that we take out collectively. We don't support this, because we don't want the European Union to become a community or group of indebted states instead of a community of cooperating Member States. Therefore we don't support policies that the European Union wants to finance through collective borrowing – not only in relation to Ukraine, but also in general. This is because the EU will be transformed from a cooperation of Member States into a debt community, with the consequences of this being felt not only by our children but also by our grandchildren, as we have to repay debt on behalf of those countries that become insolvent in the process. It isn't Hungary that usually finds itself in such a situation, but others. And if we look at the next twenty years and see which countries are already in debt and by how much, even without providing assistance to Ukraine, we'll see that within the European Union there's no small number of countries which are – or could be – in that situation. So we don't support that. What we're proposing is that we don't mix up the money from the European Union budget with aid to Ukraine. If we want to help, then let's divide up the amount of aid between us, with a share due from each country on a weighted basis, and then each one giving this to Ukraine from its own budget through a bilateral agreement. This is the only approach we can support; we won't accept the other method, we won't consent to it, and without us it won't happen. We must therefore return to the idea of direct support: from budget to budget, an agreement on money from the Hungarian budget and Member State budgets to the Ukrainian budget. The money must be earmarked for this. The Hungarian state has done this, by the way: we've set aside the money that we should give to Ukraine in 2023, and we'll give it to Ukraine through a bilateral agreement. But we're not consenting to any kind of joint borrowing.
Another controversial issue is the global minimum corporate tax rate. Here Brussels and Washington are joining forces to persuade Budapest to fall in line and accept it. Can they succeed? Is it possible that the Hungarian position will change?
Well, the global minimum tax rate is a job-killing tax increase. So if it were introduced and Hungary were to consent to it, it would lead to tens of thousands of jobs being lost in Hungary. We cannot afford that. In my opinion tax isn't in any case a global issue but a national one, and each country must decide for itself what kind of tax system it wants to operate. Voters like democracy precisely because they say what kind of governments with what kind of tax policy promises can come to power in one country or another. If we were to surrender this, we would also be surrendering the right of the Hungarian people to determine an essential element of Hungarian economic policy: tax policy. Therefore we don't see the global minimum tax as a good idea – either from the point of view of jobs or from the point of view of democracy; and we won't agree to its introduction in Hungary.
The protection of jobs will be a key issue in the coming period, because the situation in Europe – which we discussed at the beginning of this conversation – is also having an impact here at home. At an economic event this week you said that it's possible to protect families from huge utility bills. Is there enough room for manoeuvre in the budget to do this, given that other spending – such as on pensions – will also rise next year?
There isn't enough room for manoeuvre at the moment; we're working on it, because it won't happen on its own, and has to be created. So your listeners should also understand that the price of energy coming into Hungary in 2021 – because Hungary needs energy imports, as we cannot supply ourselves – was 7 billion euros. That is what we paid: we paid 7 billion euros for the energy that Hungary needed. In 2022 this has risen to 17 billion, and it may go even higher in 2023 – we're not yet sure about this, but it certainly won't fall. In the old days they called this "deteriorating terms of trade", but this means that Hungary is losing at least 10 billion euros a year because of high energy prices. That's 4,000 billion forints! If it weren't for this, we could spend this amount on wage increases, pensions, development, teacher pay increases, healthcare investments – in other words, on what Hungary really needs. But we can't. Now this money is simply being catapulted out of the country, and it has to be generated. So 10 billion euros, 4,000 billion forints: this is what the next budget will have to deal with. Most of it – some of it, maybe half of it – will need to come from the budget. We're now working flat out on this. We have budget legislation in place for 2023 which we adopted in July 2022, but since then the world has been turned upside down, and so we have no choice but to redesign the 2023 budget. This is now in progress. In the coming year, if businesspeople work well, employees work well and the Government works well, we believe that we can ensure that the Hungarian economy doesn't fall into recession, doesn't start to shrink, but continues to show economic growth. We expect economic growth of 1.5 per cent. If this is the case, if we can do this, then we can protect the relief for families' household utility bills. We need to keep in mind that today every Hungarian family receives 181,000 forints a month in relief on their utility bills. If it weren't for the policy of reducing utility bills, the average Hungarian family would pay 181,000 forints more every month. Now imagine your own family and think about how your family would survive if you had to pay an extra 181,000 forints every month for energy. Many millions of Hungarian families would be left in a hopeless situation. First they'd burn through their savings, then they wouldn't be able to cover their expenses, they'd have to take out loans and they'd simply be ruined. So in the coming year the key issue for Hungary is that we must put every forint – every fraction of a forint – into the utility bills reduction fund to protect families from energy prices that are skyrocketing as a result of sanctions, so that the country can pay the sanctions-induced energy surcharge.
There's another challenge that's returned, and it's migration at Hungary's southern borders. The number of illegal border crossings this year has already surpassed 250,000. In recent weeks we've seen shots exchanged between migrants and police on the M5 motorway, and in Horgos [Horgoš] migrant gangs have also clashed with each other in broad daylight. How do you see this situation, and at what stage are we in the process that's been launched with the Serbian president and the Austrian chancellor to push the centre of gravity of defence as far south as possible?
The situation is becoming increasingly dire. The situation along our southern borders is dire. Hungarians are suffering as a result: they're suffering on the Hungarian side of the border with Hungary, and they're also suffering on the Serbian side of the border, where there are also a large number of Hungarians. Their lives are gradually becoming unbearable. So I think that together with the Serbs and the Austrians we've seen that we can't defend this border area any better, we can't defend this section of the fence any better. It's almost impossible to manage the conflicts there, so we have to move the line of defence southwards, towards Serbia's southern border. We've agreed on this, we've already had two rounds of talks at prime ministerial level, and the third will take place soon in Austria. The map of the solution, the action plan, has been drawn up. We're now raising the money, the means and the people to collectively move down to Serbia's southern border. And under the leadership of the Serbs – because it's their country and their border – we'll defend our security together, under the leadership of the Serbs, a few hundred kilometres further south than where we do now on the Serbian-Hungarian border. The good news is that there was a V4 summit in Kassa [Košice], and the other three V4 countries have offered to help and contribute to the implementation of the joint Austrian-Serbian-Hungarian plan. This is because it isn't only the Austrians who are suffering from migrants filtering in, because despite the fence there are still migrants, but also the Slovaks; and even the Czechs are feeling the consequences. They're also willing to provide us with equipment, people and money, and the details of this are being negotiated. I know that the biggest problem is energy, and I know that the greatest challenge for Hungarians is the economic difficulties of everyday life; but on a historical scale the greatest challenge is migration. And we must acknowledge that we not only have to deal with the difficulties of border defence, but that there are political tendencies in power in Brussels, and they're supporting those of their kind, of their ilk, in Hungary: those who want to let migrants into Europe and let them into Hungary. In fact, they want to oblige us to let them in. The Hungarian dollar-fuelled left and the Brussels bureaucrats agree on this. So, while we must protect our economic interests and live through 2023, and preferably develop, we face another more hidden, less visible historic challenge for Hungary: to defend ourselves against migration. And perhaps public opinion or public attention is less focused on the issue of migration, but we, the decision-makers, must be aware that for Hungary this is the most important historic issue.
In the past half an hour I've been asking Prime Minister Viktor Orbán questions about the Brussels sanctions, their impact, negotiations with the EU, and the migration situation.